Don Hansen started tapping maple trees in 1999…
tapping 30 maple trees in the residential area of Taylors Falls. Don's Sugar Shack at that time was not a shack at all because the evaporator, a 2×4 flat pan on an old oil barrel, was set up outside in the driveway on West Street in Taylors Falls.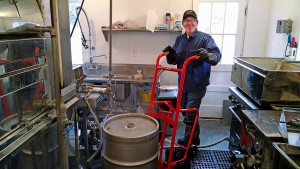 In 2001 Don developed a relationship with First Evangelical Lutheran Church Youth Group, purchased a 2×8 Small Brothers evaporator and all syrup produced was donated to the Youth for camperships and mission trips. Don and wife Sydney continued to make syrup in the driveway until 2006 when they purchased the 1934 John E. Ekdalhl Bungalow and outbuildings on the corner of West Street and Maple Street in Taylors Falls. Don converted the old Ekdahl Harness Shop into a Federal and State Licensed Maple Syrup production facility. . In 2018 Peace Lutheran Church, Dresser, Wisconsin joined the maple syrup ministry and expanded to 2,500 buckets in 6  different locations in the St. Croix Falls, Wi, Taylors Falls and Center City, MN.
In 2015, Don began selling maple syrup supplies in the St. Croix River Valley. Tapping trees in the St. Croix Valley was growing and so was the demand for locally available maple syrup supplies. The nearest maple syrup supply dealer was a one to two hour drive. Don became a CDL Inc. maple equipment and supplies distributor in July, 2014 and started selling maple syrup supplies and equipment in January 2015.  In November of 2022, Don and Sydney opened a small retail shop in Downtown Taylors Falls, 395 Bench Street,  to offer the full line of Pure Maple Syrup and Maple syrup products.  Sydney also opened, in the same space, a vintage merchandise resale shop with 100 percent of the proceeds from sales donated to the St. Croix Falls, Festival Theatre.
Don converted the 1930 "Red Barn" on West Street to a mini store and offers supplies and equipment for sale.  "I hope to be able to provide all maple producers of any size a broad selection of maple supplies and make available all equipment necessary to produce the best tasting pure maple syrup of the St. Croix Valley."